Account Executive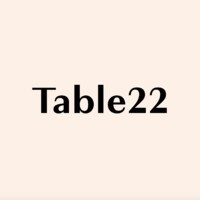 Table22
Sales & Business Development
Remote
Posted on Friday, March 24, 2023
Table22 empowers beloved restaurants to build wildly successful subscription offerings, helping them grow their revenue and strengthen their customer relationships.
Subscriptions on Table22 take many forms: a unique monthly menu from your favorite Thai spot, a wine club from your favorite bar, or a collection of unique pastries from your favorite bakery. We're creating a new way for restaurants to engage their customers outside their four walls by offering unique, curated experiences they can't get anywhere else.
We provide restaurants with everything they need to launch, run, and grow a subscription business. That includes:
Guidance from our team on what type of product & offering would be most successful

All the platform functionality that's needed to enable success (tech infrastructure, payment processing, analytics, etc.)

Extensive marketing support (social media, on-premise, email, and more)

Logistics: support with shipping, delivery, and pickups for our partner restaurants
Our aim is to enable restaurants to build predictable, recurring revenue that can provide financial stability for a challenging industry, all while providing new and unique experiences for restaurants' best customers.
We're a restaurant-loving, hospitality-obsessed, all-remote team of eaters, leaders, product designers, engineers, data scientists, marketers, finance wizards, culinary school alums, and humans with a single mission:
To help restaurants survive and thrive in a challenging, ever-changing world through a new model of customer patronage.
Table22 is seeking a highly motivated and experienced Account Executive to join our nationwide team of restaurant enthusiasts, hospitality experts, and problem solvers. In this role, you will play a critical part in expanding our partner network by engaging with potential restaurant partners and helping them build successful subscription businesses using our platform.
Key Responsibilities:
Execute a consultative, vision- and value-based sales process, focusing on the impact of Table22's subscription services rather than just features and solutions

Generate your own pipeline through multi-channel outbound activity, and collaborate with a Business Development Representative (BDR) to quickly qualify and prioritize opportunities

Build strong relationships with multiple stakeholders, including restaurant owners, GMs, chefs, and front of house & back of house personnel, to ensure the full team is onboard and aware of the Table22 program

Drive deal momentum with persistent and thoughtful follow-up, never letting an opportunity stall when you could be moving it forward

Continuously refine your pitch, demo, and objection handling based on your learnings from the market

Work collaboratively with various business units, including marketing and product, to onboard and launch top restaurants on Table22

Accurately plan and forecast sales performance on a monthly and quarterly basis

Ensure a seamless handoff to Account Management partners for the successful support of new restaurant partners
You will work directly with our Head of Sales and our broader sales team. You'll also work cross-functionally with all of our Account Managers, some members of our logistics team, and our marketing team.
Proven experience in an Account Executive or similar sales role, preferably within the restaurant or hospitality industries

Track record of closing a high volume of meaningful deals within 30-60 day sales cycles

Experience navigating complex sales processes involving multiple decision-makers

Ridiculously detail-oriented and organized, able to juggle many priorities without dropping any balls; resourceful and able to thrive in a scrappy, fast-paced environment

Empathetic listener and a persuasive communicator who can professionally represent Table22 to our partner restaurants in-person, over email, and over the phone

Customer-obsessed, willing to go above and beyond to make restaurant partners happy, even when it's inconvenient or challenging

Experience working in a fast-paced, small-team environment, with the ability to contribute quickly and adapt to changing priorities

Passion for food, restaurants, and the hospitality industry; previous experience in the space is a plus, but not a requirement

Willingness to visit restaurants in-person, locally or via travel
We're tackling a big problem with even bigger potential. Table22 partners have generated millions in subscription revenue, and often retain >80% of their subscribers after the first 6 months.

We're trusted by some of the best restaurants in the country. We serve hundreds of partners across 60+ cities and counting.

Our investors are behind companies like Airbnb, Spotify, Patreon, & Etsy, and food world leaders from institutions like Blue Hill Stone Barns and Sweetgreen; our team is made up of alumni from companies like Warby Parker, Squarespace, and Stitch Fix.

Our work has been featured in the New York Times, Bloomberg, The New Yorker, New York Magazine, The TODAY Show, Eater, and local media outlets across the country.

You'll have a unique opportunity to travel far and wide to meet with (and try) some of the best restaurants in the country.

You'll be able to work remotely and (mostly) set your own schedule.
We are still a fairly young company so if you like more established companies, this role isn't for you.

We're an early stage startup. Projects and priorities may shift.

Everyone on the team is extremely mission-driven, and works incredibly hard to push towards our lofty ambitions.
Table22 is a remote, distributed company—we do not have an office, employees work from the location that best suits their needs, and all communications take place using digital tools. As a member of the sales team, some of your job responsibilities will involve visiting potential restaurant partners in-person.
We are specifically hiring for Account Executives based in:
Austin

Chicago

Los Angeles

Minneapolis

Portland, OR

San Francisco

Seattle
Unfortunately, we are not able to accept applications from candidates outside of these cities at this time.
We welcome all applicants, regardless of race, color, religion, national origin, sex, ability or gender identity—and encourage Black, Indigenous, and non-Black people of color (BIPOC) to apply. We also encourage Lesbian, Gay, Bisexual, Transgender, Queer, Intersex, Asexual (LGBTQIA+) folks, disabled people, and all people with non-dominant identities to apply.
No college degree is required and there are no required number of years of experience. We care about what you've learned throughout the course of your life, and we believe the best candidates will have learned relevant job skills and developed their leadership experience in a wide variety of ways. We do not drug test or run criminal background checks.
Please note this role is only open to candidates that are legally authorized to work where they reside. Due to the remote nature of the role, Table22 does not currently sponsor candidates for visas or work authorizations/permits and does not currently support the transfer of visas or work authorizations/permits from prior employers to Table22.
Competitive salary range, plus stock options for all employees. This position has variable commission which we can share more about during the application process.
Table22 offers all full-time employees health insurance (medical, dental, and vision), paid time off for federal holidays, and unlimited personal paid time off. We also offer a 401(k), though with no employer match at this time. You will be provided with a company laptop as well.
Additionally, all Table22 staff receive $100 of monthly credit to subscribe to any on-platform restaurant partner(s) of their choice.
Where is your main office located?
We are an entirely remote company.
What are the hours of operation?
Most team members work roughly 9am-6pm in their local time zone. Occasional meetings or calls outside of those hours are necessary to accommodate partners' or colleagues' schedules in different time zones.
What is the workplace like?
Though we're all-remote, we're a tight-knit team! Especially in this role, you'll also have an opportunity to meet semi-regularly with many team members in-person given all of the travel involved in the position. We also host regular all-team off-sites.
Are you hiring for one role or multiple?
We are open to hiring multiple candidates.